District News
There's a lot happening in our vibrant school district! From events taking place at school to public information notices, we've included all the latest events here on one page. Make it your first stop when you visit our website to ensure you are always aware of what's happening at Moniteau.
Emergency Permit Substitute Training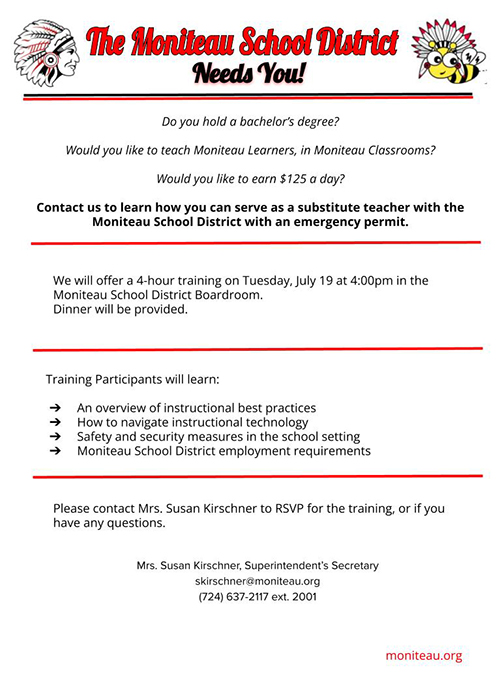 Moniteau School District is looking for substitute teachers for the 2022–2023 school year. If you have a bachelor's degree and the time and desire to help Moniteau Students learn and grow, review the training's flyer and consider joining our team. The daily substitute teacher rate is now $125. Contact us to learn how you can serve as a substitute teacher with the Moniteau School District with an emergency permit.
We will offer a four-hour training on Tuesday, July 19 at 4:00 p.m. in the district board room with dinner provided. In this training, participants will learn an overview of instructional best practices, how to navigate instructional technology, safety and security measures in a school setting, and Moniteau School District employment requirements. Please contact Mrs. Susan Kirschner at (724) 637-2117 ext. 2001 to RSVP for the training or if you have any questions.